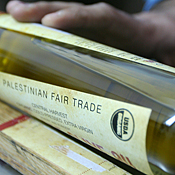 One of the most enjoyable parts of my drive to work in the morning is listening to NPR's Marketplace. Its a fascinating and mind boggling world of business that is presented in a an upbeat and lively way. My routine has now also involved listening to Marketplace on the internet radio for this past week because of the fascinating special coverage they have been doing on the "Middle East at Work".
They have covered topics about Islamic Shariah compliant student loans and mortgages, to the mega health cities and desert building sprees, the new silk road and on the "Islamic Roots of Green" business.
Its quite a fascinating work that they have put together. Please do visit
here and listen to it
. Kai Ryssdal, the host of the show has an interesting story on his job
here
. He really carries the show for me, makes business seem like its not the 3 trillion dollar economy it is. Also for more on Islamic economics check out wikipedia, its a good
beginning point
.